PLAN YOUR NEXT EVENT AT THE MODERNIST
Either you are planning a corporate meeting or social event The Modernist Thessaloniki spaces can be a perfect choice if you're looking to combine an intact organization with a stylish atmosphere. Our meeting room and roof garden can host your next networking event, product launch or workshop, a corporate brunch, the celebration of a very special birthday or even a small-scale wedding reception.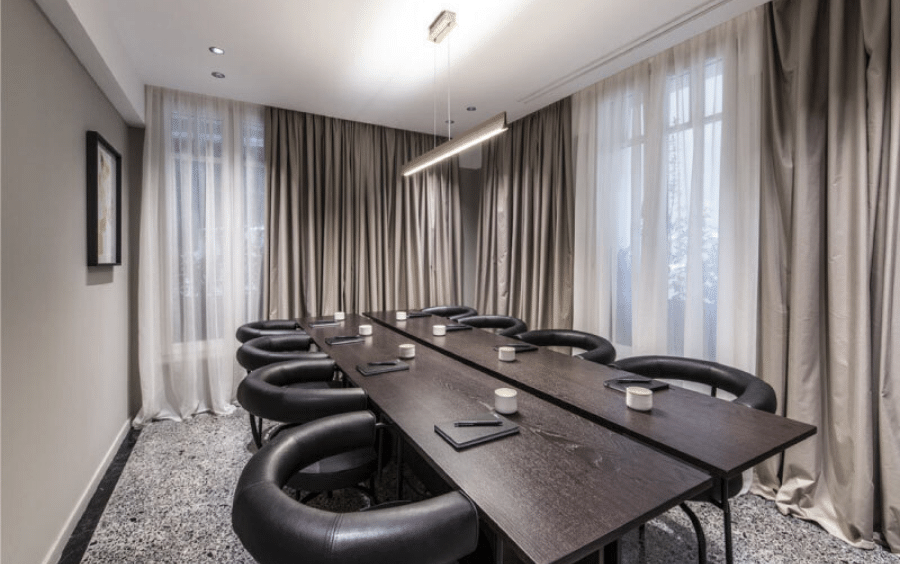 Our ground floor boardroom on demand is a well-equipped venue for business meetings that seat up to 10 people around a large table, equipped with a large 55" screen and standard AV equipment, speakers, blackout curtains and of course full connectivity. Assistance with any technical trouble-shooting, adaptors or cabling requirements is available at short notice.
Our rooftop on the 7th floor is a light-filled in and outdoor space. A rooftop lounge which invites guests to parallel play, work, meditate or collaborate during the day – it's a great venue which can be booked for small social events or meetings.
EVENT VENUES
m2
BOARDROOM
COCKTAIL
SCHOOL
SQUARE
U-SHAPE
THEATER
MEETING ROOM
15
Up to 10
–
–
–
–
–

ROOFTOP
Internal
25
–
–
Up to 16
Up to 12
Up to 9
Up to 18
External
45
–

Up to 45



–
–
–
–