At the Modernist, however natural and simple things may seem, nothing was left to chance. Social areas are visually seamless extensions to the consummate quiet and privacy of your room. With the exception of selected signature pieces in the lobby, the furniture, lighting and uniforms are our own design, made to measure for the perfect fit and functionality.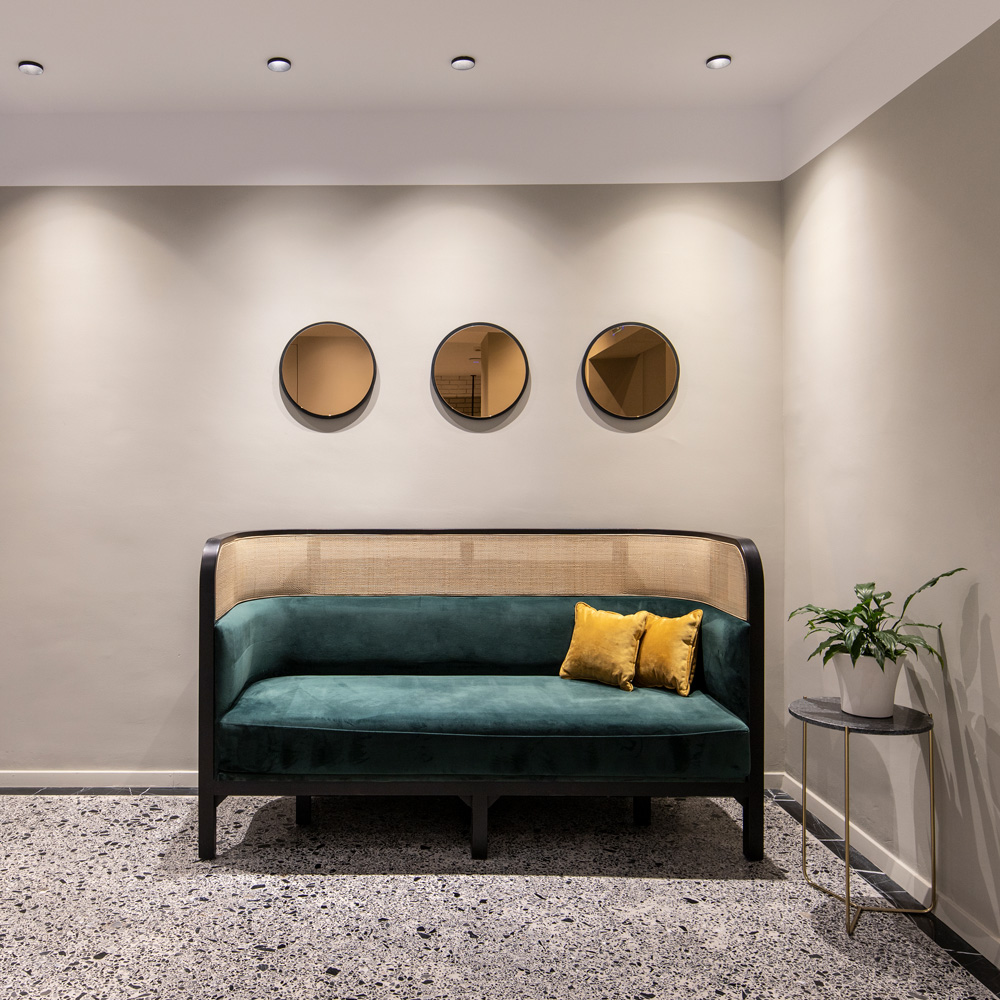 The elegant pairing of art deco detailing and minimalist design that runs through The Modernist is apparent from the very first moment, as you move beyond the heritage façade through a lobby with original 1920s encaustic tiles and contemporized dados, towards a reception desk stained in British racing green at which 24-hour service stands to attention.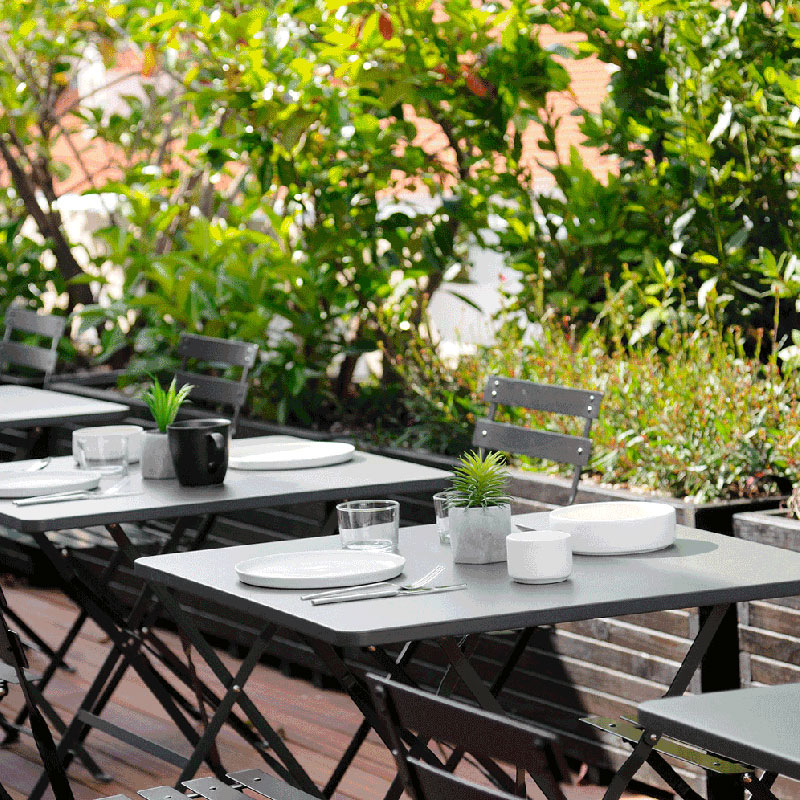 Our rooftop on the 7th floor is a light-filled in-and outdoor space where breakfast is served daily between 7:00-10:30. Should you linger longer, your will find the space transformed into a rooftop lounge where guests parallel play, work, meditate or collaborate during the day – it's a great venue which can be booked through our concierge for small social events or meetings. 
Our 'shop' is more of a loosely curated display of some of our favourite lifestyle items that may catch the corner of your eye on your way in and out of the Modernist. You'll find our branded moleskin notebooks, alongside city guides and the books to gift or take home to your own coffee table, as well as souvenirs and our custom-made coffee mugs!
Our loosely curated display of some of our favourite things may catch your attention. Following our commitment to showcase and support the exceptional creativity of our community, we host exhibitions of works by local artists and artisans.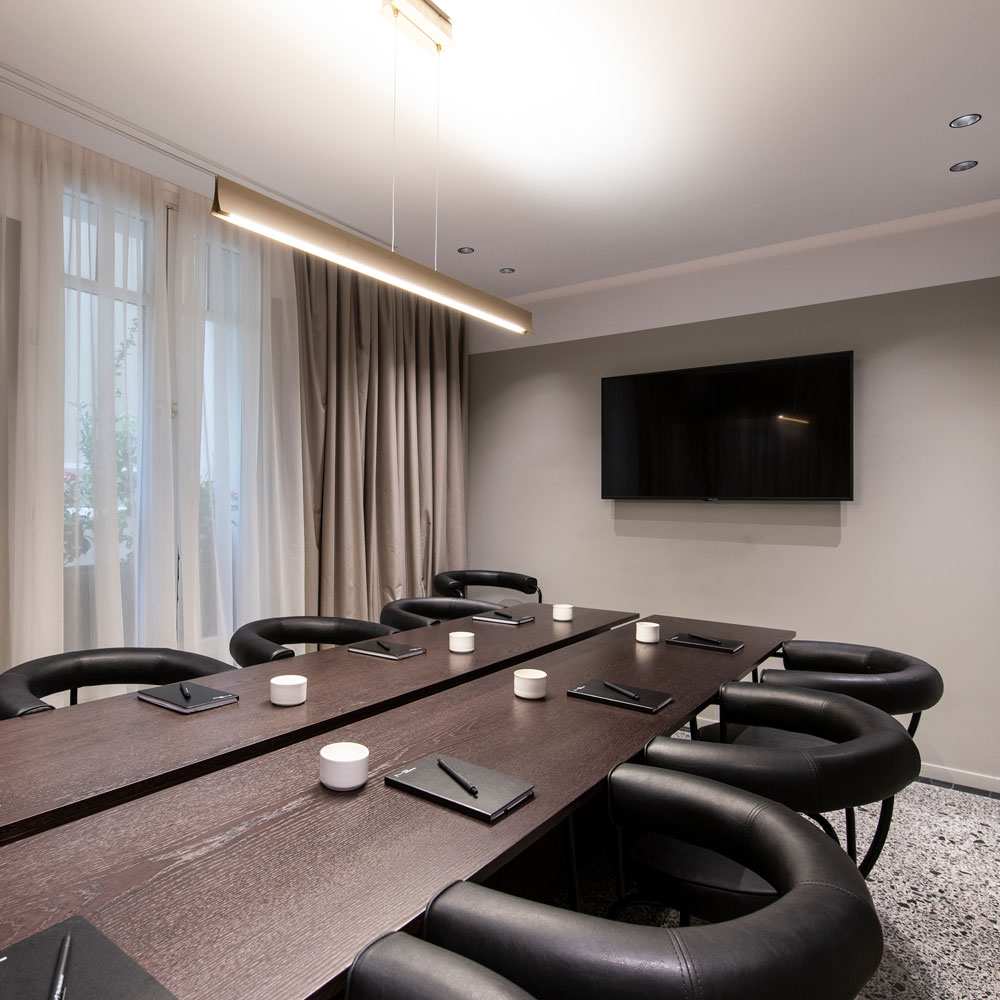 Our ground floor boardroom on demand is a well-equipped venue for business meetings that seat up to 10 people around a large table, equipped with a large 55" screen and standard AV equipment, speakers, blackout curtains and of course full connectivity.
On the ground floor, right next to The Modernist's entrance, you will find a lovely ERGON To Go. The best place to start your day with a specialty coffee & the perfect pit stop to grab a fresh lunch bowl.